The search for photos of servicemembers on the Vietnam memorial
American Legion Past Department of New York Auxiliary President Sue Britton, and the entire New York Legion Family, are doing their part to find those missing in their respective state.
"I think that every one of these veterans need to be recognized, and it's become a communitywide service project here in New York to locate the photos," said Britton, a member of Unit 589 in Rensselaerville, N.Y.
National Veterans Creative Arts Festival Buffalo, NY
click on the image below to download the flyer for the 2017 National Veterans Creative Arts Festival to be held in Buffalo, NY in October 2017.  Please share with your units and counties.
Help Recognize the Vietnam Veterans
by finding the missing New York Faces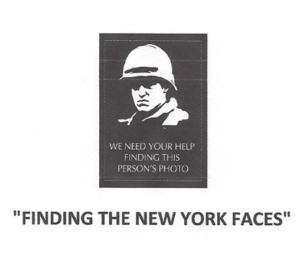 Click on the image above to learn about how you can help honor the sacrifices made by finding pictures of the names listed on Vietnam Memorial from New York who do not have photos linked with their name!
NOTE: ALL forms are now located under the Member Info tab!
Did you know that the American Legion Auxiliary has a YouTube channel?
Today they featured a video that showcases how the American Legion Auxiliary has been making a difference for Decades!
Consider watching this video, other videos on the channel and subscribing to the YouTube channel!
Together we can make a difference for many more decades!
Click HERE to watch the video!
Your Volunteer Time Counts!
Did you know that throughout the year it is important to report the hours you volunteer and the value of this time.
Each year the National Organization sets the value of our volunteer time. They refer to a website called www.independentsector.org. While there are different values for different states the national organization uses the average rate so that the reports from each department are consistent.
The 2016-2017 value for Volunteer hours is $23.56.
Please this when calculating your hours and valued time for any committee report form that requests such information.
In the future you can view the website for more information by clicking HERE.
Did you know that the mileage  driven in service of charitable organizations can be reported? The current rate is $.14 a mile! This information is updated annually by the IRS. Click here to access it!
*****Please note that in the future this information can be found under the member info tab and clicking on "resources"  *****